Elder is a four-piece psychedelic, progressive, stoner rock band from Boston, Mass. They have been a powerful force in stoner rock since the release of their self-titled album in 2008. The band has evolved over the years, from a doom-worshiping prototype, to a unique band that has in turn become an influence for their peers. The band's long-time artist has been Adrian Dexter. Almost as influential as their music, the artwork Dexter has created to accompany it has been inspiring, vivid; every bit as unique and interesting as the band's sound. This article will give a brief overview of each of the band's major releases and the artwork. It will also guide readers through the evolution of Elder's sound and art, and will give an update of their forthcoming EP.
"Earth behind me… universe in front…"

Ghost Head
Elder's Self-Titled album was released in 2008. With heavy riffs and melodic vocals, Elder firmly cemented themselves into the East Coast stoner rock scene. The piece is characterized by Conan-inspired lyrics and plenty of tips of the hat to their influences which include Colour Haze and Sleep. Dexter's art for the album features several fantasy elements, including snake handling babes, an enthroned king, and a hall being flooded by a torrent of crashing waves. Check out Ghost Head for a good idea of what the album is all about, and don't miss the now classic "cosmic blunt" lyric.
"Black void yawning…"

Dead Roots Stirring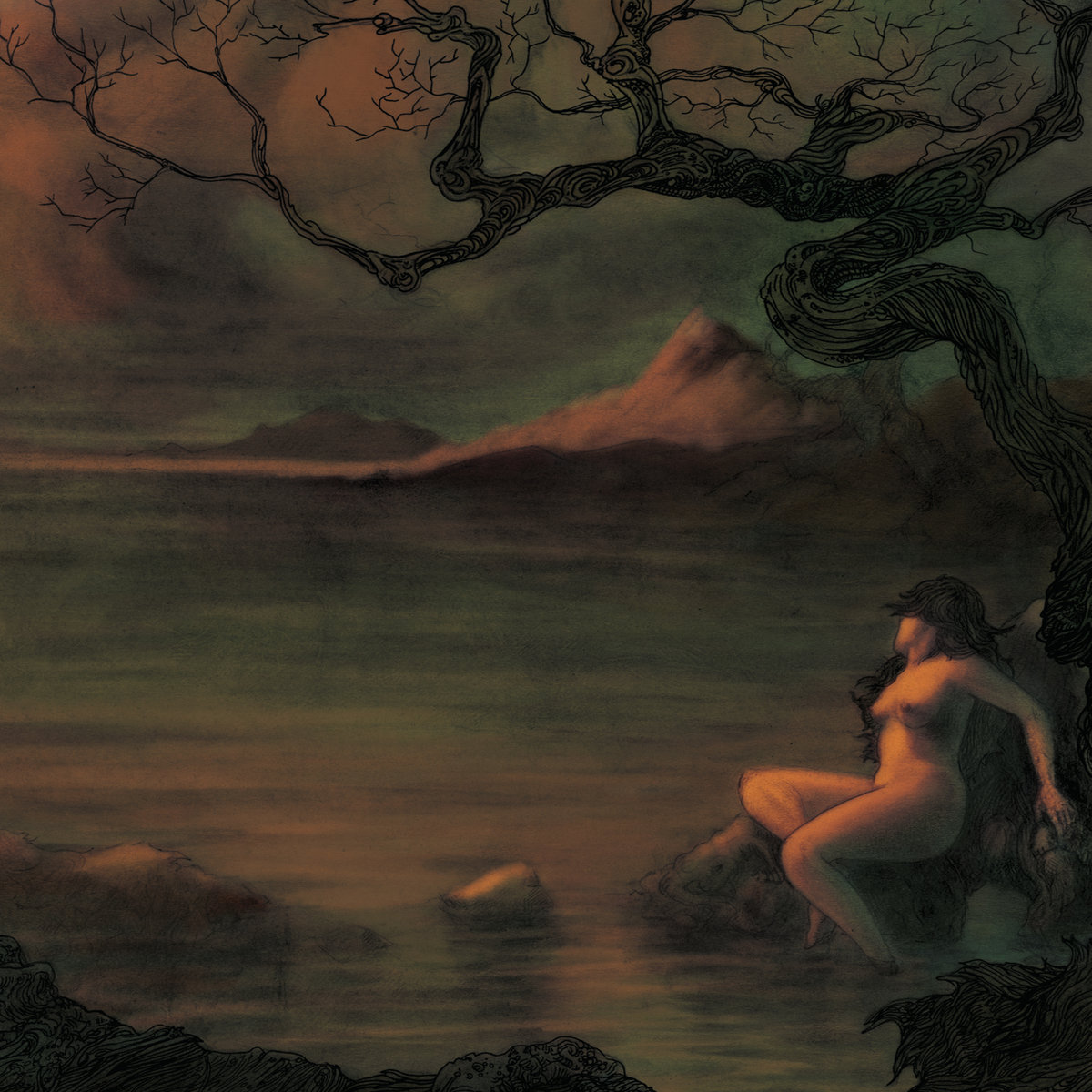 The Self-Titled album was followed in 2011 by Dead Roots Stirring, which has become a revered classic in the stoner rock community, and is generally accepted as Elder's first benchmark album: it was at this point that the band really defined themselves by carving out a unique sound and style, with an added maturity in their lyrics and sound. The album is riffy, with long extended compositions, occupying a genre somewhere between stoner/kraut rock and progressive rock. Dexter's hazy, earth-tone artwork depicts a naked woman, reclining on rocks on the edge of a bleak landscape, giving the album a visual mystique that adds to the sonic textures. Check out the song Dead Roots Stirring to get an idea of the sound that Elder produced at the time.

"A journeyer on the wayward path…"

Spirit at Aphelion
After an EP in 2012 and a live album in 2013, 2015's Lore proved to be well worth the wait, as well as another benchmark for the band. The album features a more progressive new sound, and some of their most creative compositions to date. The album features a plethora of layered textures as well as the band's unique sense of harmony and counter melody. With much more progressive and complex song structures, it seems the group was pushing themselves musically and creatively to explore avenues of music that had not been previously mapped out. In addition, Dexter's artwork once again complements the music in an amazing way. His depiction of a jagged mountain range, with the addition of Van Gough-esque swirls, matches the questing, intense sound of the album. Check out the track, Spirit at Aphelion, to gain an understanding of just how unique and complex this album is.
"Sancuary!"

Sanctuary
Elder released Reflections of a Floating World in 2017. The album would prove to be one of their most progressive yet. Each song is a mammoth composition, filled with complex structures and change-ups, featuring soaring guitar melodies and rich layers. The amazing thing is how listenable the album is, despite its complexity. Unfortunately, the album does suffer from some repetitive tracks as well as one track that sounds like it belongs on a different album. Even though it never quite surpasses the uniqueness or magnitude of Roots or Lore, Reflections is still a very solid release and yet another snapshot in the band's evolution. Dexter's art is magnificent, depicting the reflections of rocks among crashing waves. The art is very light in color tone and organic in its line structure, with a flowing feel like that of historical Japanese art. The track, Sanctuary, features some of the heaviest and greatest moments on the album.
Elder recently announced via their Facebook page that they have three important plans for 2019:
"Well, we can't keep this in the bag forever, and since this is already floating around the internet we had might as well reveal the cover art for our upcoming EP "The Gold & Silver Sessions" by the fantastic Max Loeffler!
This EP is the first release in year one of Postwax, a subscription vinyl series by Blues Funeral Recordings. Unfortunately there were some kinks in production considering the deluxe packaging for the subscriber version, but it will be landing in mailboxes very soon. The deluxe edition has some very special features we are excited about!
For non-subscribers, the standard edition will be available at the end of June. WE WILL HAVE A LIMITED AMOUNT OF THESE ON OUR UPCOMING EUROPEAN TOUR so come out and grab one!! Of the standard edition, only ourselves, Blues Funeral Recordings and Stickman Records will have an exclusive color variant.
See you soon! Oh, and we are recording a new full-length this fall :)"
As happy as I am for an EP, a tour, and a new full length, the statement leads to a number of questions such as, will Dexter again return to produce the art for their full length this year? What sound will the band be exploring this time? Will they continue with their more progressive compositions or will there be a return to their stoner rock roots? Time will tell, our questions will be answered, and when that happens you can read about it on the Sonic Sofa.