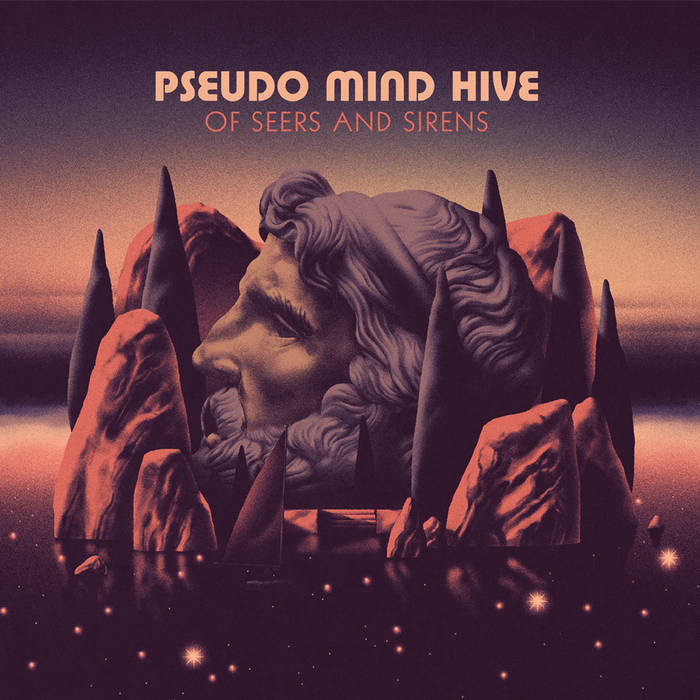 Pseudo Mind Hive is a psychedelic stoner rock band from Melbourne, Australia. They formed in 2007. The five member band is made up of Jack Ainsworth on bass, Samuel Drew-Rumoro on drums, Christopher Hockey on guitar, Mark Vincini on guitar, and new member Jess Joannou on organ and synths. All members contribute vocals. They just released their second full length, Of Seers and Sirens, a followup to their debut album, From Elsewhere, which was released in 2018. The band is signed to Salty Dog Records, a label based in Brunswick East, Australia.
"rounds of progressive patterns and guitar leads"
Though the definition varies according to who you ask, most will agree that stoner rock requires a few basic ingredients: fuzzy, overdriven guitars with heavy riffs, thunderous drums and crashing cymbals, a fat bass sound, rounds of progressive patterns and guitar leads, complex turnarounds and changeups, psychedelic lyrics, and it doesn't hurt if your vocalist sounds just a little bit like Ozzy. Throw in a some spacey synthesizers and grinding organs for good measure and Pseudo Mind Hive checks all of these marks, cementing themselves firmly in the scene with their brand of heavy, psychedelic stoner rock. If you enjoy bands like Elder or Howling Giant, you're going to dig Pseudo Mind Hive.
Of Seers and Sirens was released on October 25, 2019. It's a heavy concept album filled with psychedelic textures, mythical lyrics, complex, progressive arrangements, and hypnotic dynamics. It's also not afraid of being solely instrumental as shown on the heavy bonus track, Solstice. The album has a mythical, Homeric vibe and many of the songs reference ocean voyages and adventures, such as the mention of sirens on the title track. There's also a tip of the hat to the famous scientist in the sprawling epic track, Gaze of Ptolemy. The artwork by Max Loeffler, famed for his work with Elder, is also very Greek in style and seems to reference Odysseus and his journeys.
1. Sails At Dawn 4:14
2. The Dreamer's Burning Door 4:25
3. Of Seers & Sirens 6:36
4. Solstice "Bonus Track" 5:51
5. Gaze Of Ptolemy 9:16
6. Equinox 8:13
7. Broken Colours 8:09
In a statement provided by the band, the story concept of the album is as follows, "In short, Of Seers and Sirens loosely follows the journey of an explorer who is lost at sea and, due to forces that are ambiguous in their nature as either supernatural or hallucinatory, finds himself amongst scenes and figures from various mythologies and points in human history. However, each song is hoped to conjour many and varied interpretations and meanings to each individual listener."
Check out the album on Bandcamp where you can download the digital album for $7 Australian, or roughly $4.25 U.S. The record is available for sale on Salty Dog's Website. You can also check out Pseudo Mind Hive on Facebook and Instagram, and they can be contacted at pseudomindhive@gmail.com. Thanks for reading The Sonic Sofa. Go in peace and rock on, Sofanauts.