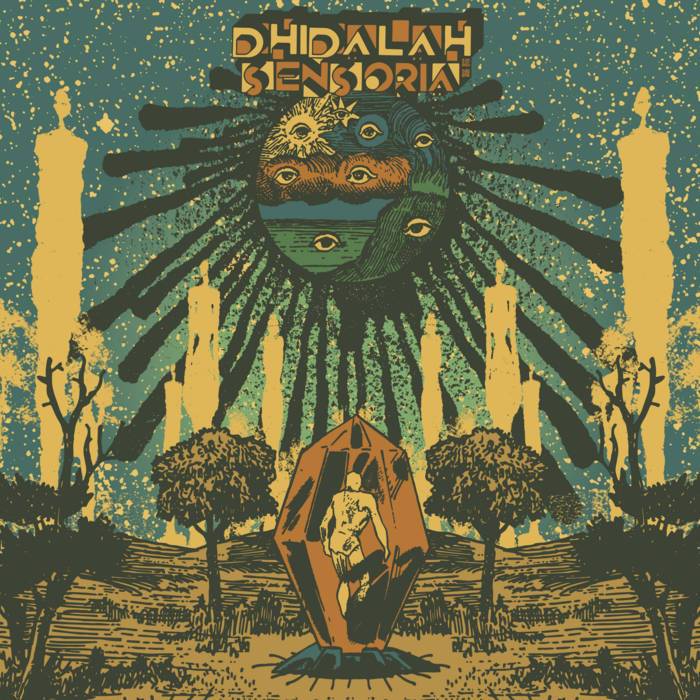 Dhidalah is a space rock power trio from Tokyo, Japan. Well schooled in the concept of sonic space travel, their jam oriented music has been taking us to the outer realms of psychedelic rock since 2013. The band released several independent recordings and EPs before signing with Guruguru Brain. Since then, they've released full lengths No Water in 2017 and Threshold in 2019. Their latest release, Sensoria, was released online in April, with vinyl pre-orders shipping this fall.
Sensoria is a four track album, clocking in at a modest 38 minutes. To create new material, the band members explore ideas during weekly jam sessions, which they then contemplate upon and hone throughout the week for the next session. Two tracks from the album, Soma and Black Shrine, were created through these sessions, while the other two tracks, Invader Summer and DEAD, are credited to guitarist Ikuma Kawabe, of Church of Misery fame. The tracks were recorded and mastered by Ryuhi Inari of Void)))Lab and mixed by Hideki Urawa. The album features cover artwork by D.Norsen.
1. Soma 9:07
2. Invader Summer 6:00
3. DEAD 3:03
4. Black Shrine 20:01
The short full length packs a hard psychedelic punch that sounds both raw and organic, but with the seasoned tightness of a touring jam band. You'll want to wear headphones to absorb the full mind-warping impact of the sonic trip. Listen for phaser and wah-pedal infused layers of guitars throughout, notable on Soma and Invader Summer. The fast pace of many of their tracks reminds me of King Gizzard's jammiest stuff. A tight and tonal drum sound lays down a solid base groove throughout the album, and listen for some creative hand percussion interplay with the acoustic guitar on the slower and quieter, DEAD. Black Shrine, the incredible 20 minute closer, inspired by the Yokai of Japanese folklore (I fully support following this link and tripping out on these entities while you listen), features a meaty bass tone, possibly reminiscent of OM's phased out drum sound. Melodic vocals, sparse and drenched in otherworldly reverb and delay, as well as sci-fi noise FX, add to the spacy atmosphere of the album.
You can find the digital album for under $8 on Bandcamp, where you can also preorder the vinyl for under $30. Keep in mind, records will not ship until August outside of the US, and until September for the US. Also, check out the band's social media where you can find t-shirts, tote bags, and other merch.
Tour Dates
May 19 Sebright Arms – London, UK
May 20 The Crofters Rights – Bristol, UK
May 22 Hare and Hounds – Birmingham, UK
May 23 The Hope and Ruin – Brighton, UK
May 24 Supersonic – Paris, France
May 25 Trefpunt Concertzaal – Ghent, Belgium
May 26 Arena Berlin – Berlin, Germany
May 26 Ilses Erika – Leipzig, Germany