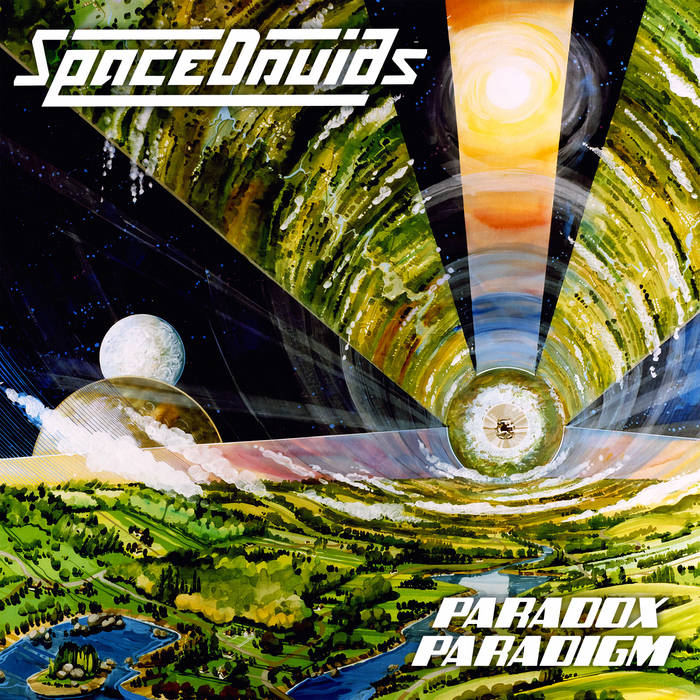 Space Druids is a space rock band based in York, UK. The seven-piece group produces a progressive style of vintage-sounding psychedelic rock, dripping with layers of spacy FX, along with catchy and thought provoking sci-fi lyrics. The band released their first full-length, Paradox Paradigm, in June. Naming themselves the next Hawkwind, their retro-style will certainly appeal to their fans, as well as those of Zeppelin, Pink Floyd, and even Sabbath, whose track Paranoid they covered in a very spacy way in 2019.
The 38 minute, nine track album is a follow-up to the group's 2020 EP, Weird Tide, which featured female vocals by Nadezhda Rinkus. This time around, vocal duties are taken up by Danny Faulkner. Stylistically, Faulkner provides beautiful melodies, catchy harmonies, and lyrics that you'll find yourself singing along to or humming later, like Hawkwind with a dash of Jim Morrison. Faulkner channels and gives voice to spacy lyrics written by Oz Hardwick, perhaps the most qualified lyricist to appear on this site. Hardwick is a published poet, author, and professor of English at Leeds Trinity University. His space-worship wordsmithing adds layers to the album, delving deep into interstellar-travel fantasies and philosophy, notably on the songs Astronomy and Afraid of Space. He also provides doses of satire and humor, as on the musical version of his published poem, Our Brand New Bodies, which effectively combines the languages of the golden age of sci-fi and advertising. Listen for Hardwick on the spoken voice portions of the album.
The album features energetic and driving songs which have a tendency to explore extended spacy interludes, marinated in juicy layers of FX, keyboards, and instruments. The seamless quality of the song breaks also makes the album interesting, with many of the songs crossfading into the next. The bass has a great classic rock tone, often taking the lead throughout the album like on tracks Light Speed and Mutation Machine. The crisp-sounding, typically driving drum beats provide a solid pulse, occasionally providing some tricky cymbal work like on Mutation Machine, or some jazzy progressions like on closer, Paradox Paradigm.
1. Light Speed 04:53
2. Zygote 05:16
3. Astronomy 01:07
4. Afraid of Space 03:47
5. Mutation Machine 05:11
6. Stainless Steel Butterfly 05:49
7. Our Brand New Bodies 01:54
8. Trans-dimensional Highway 05:01
9. Paradox Paradigm 04:31
On the top end, listen for some funky, progressive guitar riffs and spacy solos, like on Trans-Dimensional Highway. The guitar is always at hand, delivering infectious hooks and interesting accents, soaked in ethereal reverb and FX. A standout on the album is the saxophone, constantly providing trippy solos and spacy layers to the tracks, notably on opener, Light Speed, and Zygote, which also features some chill Pink Floyd vibes. Listen for some spectacularly spacy and psychedelic sax and violin work on Trans-dimensional Highway. Also keep an ear our for some appealing flute parts and acoustic guitar work on Paradox Paradigm, as well some tasty synths on Stainless Steel Butterfly.
The album is available for NAME YOUR PRICE on Bandcamp. Currently the album is only available for streaming and digital download, though a physical CD release seems like a real possibility. Check out the album and follow the group on social media.