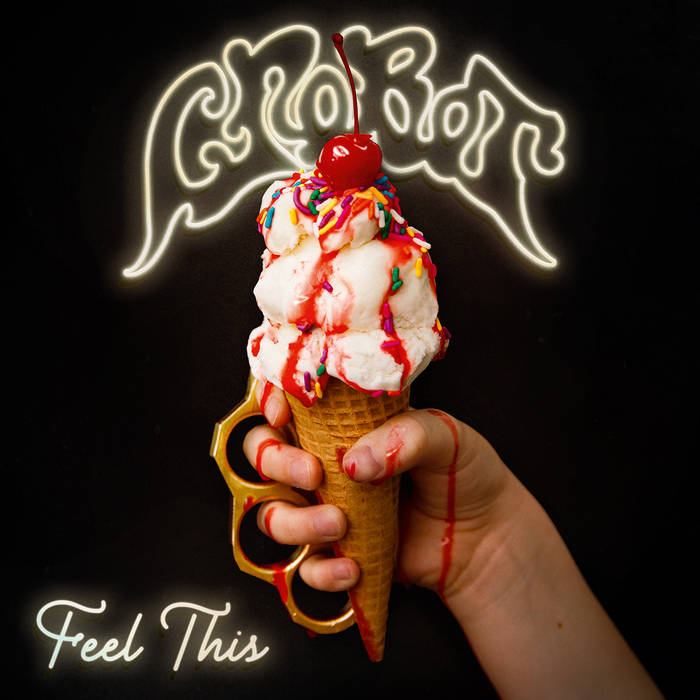 There are many keywords that could describe Crobot: stoner rock, glam, dirty grooves, heavy riffs, grungy action, attitude. The truth is Crobot embodies all of these and more. The four piece group from Pottsville, PA has been violently administering heavy grooves since 2011 and are back with their fifth full length, Feel This. The album delivers in classic Crobot style, with riffs and high-flying vocals on 12 heavy, headbanging tracks.
1. Electrified 4:00
2. Dizzy 3:32
3. Set You Free 3:31
4. Better Times 3:33
5. Golden 3:57
6. Without Wings 4:35
7. Livin' on the Streets 3:02
8. Into the Fire 3:04
9. Dance with the Dead 2:59
10. Holy Ghost 3:17
11. Never Break Me 3:24
12. Staring Straight Into the Sun 4:56
Vocalist, Brandon Yeagley, and guitarist, Chris Bishop, are the founding members of the group, carrying forth the vision of the band with renewed passion on Feel This, which was released in June. Yeagley's impressive vocal range is well displayed on opener, Electrified, a fight song with a shock of adrenaline and fast paced riffs. If any of the tracks could be called a stadium anthem, it might be Set You Free, with it's nice key board accents and catchy vocal hooks. Yeagley's lyrics are laced with wit and wordplay, like on the Motley Crue-esque Livin' on the Streets and the catchy, classic rock sounding track, Dance With the Dead. On riffs, Bishop's guitars sound crunchy and groovy. Listen for his unique signature guitar effects, notable on the opener, the grungy track Golden, and Holy Ghost, which features lots of cool, heavy changeups. Dizzy features slower, dirtier riffs and a quick Tom Morello style solo. Don't miss Bishop's extended solo on closer, Staring Straight Into the Sun, which also features a fast changeup and extended jam at the end.
Dan Ryan joined in 2018 and recorded drums on Motherbrain and bassist, Tim Peugh, joined the band in 2021. Ryan's drumming is rock solid, perfectly synced with Peugh's growly bass tone. Listen for some tight transitions on Better Times, and don't miss that super heavy, progressive ending on Without Wings. Hang on for the ride on headbangers like Into the Fire, Holy Ghost, which features some impressive drum fills, and Never Break Me, another attitude filled track which highlights Peugh's awesome bass tone.
Feel this is available for streaming and digital download on Bandcamp for under $9. It's also available on transparent red and multi-color splatter vinyl, as well as CD, on their merch page. Interact with the band on social media and check out their live dates for an incredibly energetic, action-packed live show. I got to see Crobot in January, 2014, at Club Fever in South Bend, IN, opening for The Sword and Clutch. I was completely blown away by their insane level of charisma and energy. I got to meet Yeagley at the merch table after the show for a quick chat. I was impressed with how much of an animal he was on stage and how chill, down to Earth, and generally kind he was as a human. If you get a chance to witness Crobot live, don't pass the opportunity.
Tour Dates
Aug 19 Psycho Las Vegas – Las Vegas, NV
Dec 16 Royal Circus (Cirque Royal/Koninklijk Circus) – Brussels, Belgium
Dec 21 O2 Victoria Warehouse – Manchester, UK
Dec 22 O2 Academy Brixton – London, UK