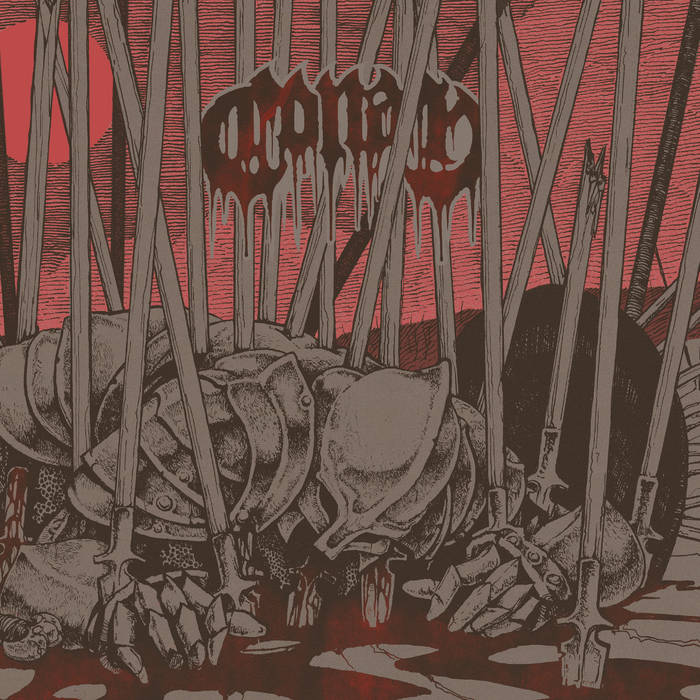 Conan, the three piece doom metal band from Liverpool, are back with their fifth full length, Evidence of Immortality. Formed in 2006, the group has delivered a consistently heavy barrage of "caveman battle doom." Down-tuned to the extreme and amplified as loudly as possible, the riffage, thunderous rhythm section, and tortured sounding vocals conjure images of blood-soaked battlefields and cosmic monsters; in other words, great escapist stoner rock. The lyrics are also mixed with just the right amount of nihilistic philosophy in the vein of Robert E Howard and Lovecraft. Conan is to doom what High on Fire is to thrash-stoner, but don't get hung too up on genres: The important thing is that with Evidence of Immortality, Conan has once again delivered one of the heaviest records available today.
1. A Cleaved Head No Longer Plots 10:23
2. Levitation Hoax 5:29
3. Ritual Of Anonymity 3:36
4. Equilibrium Of Mankind 8:23
5. Righteous Alliance 8:34
6. Grief Sequence 14:29
Evidence of Immortality was released on August 19, 2022. It clocks in at 51 minutes with six songs. Personnel include founding guitarist/vocalist, Jon Davis, bassist Chris Fielding, who first appeared on 2014's Blood Eagle, and drummer Johnny King, who joined before the recording of 2018's Existential Void Guardian. Long time band artist Tony Roberts once again completely captures the feel of the band with some gnarly battlefield album art. The album was released through Napalm Records.
Album opener, A Cleaved Head No Longer Plots, clocks in at over 10 minutes (typical Conan song length) with slow, monolithic riffs and a huge drum sound. Pay attention for some cool phaser effects and a snarly guitar solo. Levitation Hoax was the first single released for the new album, accompanied by a hilariously brutal music video. Davis and Fielding's, "I am the unborn son, of the unborn son," chant is pretty catchy, and don't miss the head banger last half. Ritual of Anonymity, the shortest song on the album, features some groovy rhythm sections and some positively thrashy sections.
Equilibrium of Mankind features some huge buildups, heavy-blues sounding riffs when it gets into it, and tortured, existential battle vocals. It's also got a great interlude with a seriously groovy drum beat and huge sounding cymbals. The double kick at the end is an awesome touch. Righteous Alliance was the album's second single. It's embedded below, so give it a listen. The sound is classic Conan, with dark riffs and a chunky bass tone. Listen for the catchy, "Cometh the righteous alliance," lyrics and don't miss the slow, doom jam at the end. Grief Sequence, the longest track, is an instrumental slow burn with the addition of some funeral-doom, haunted house style organ synths provided by former bandmember Dave Perry.
You can find Evidence of Immortality as Conan's back catalogue on Bandcamp. The digital download is available for $10. A double LP of the record is available for $23, along with tons of other cool merch and copies of back albums, through Napalm Records. The band is active on social media.
Tour Dates
Sep 22 L'Homme Sauvage Festival, Auzas – Toulouse, France