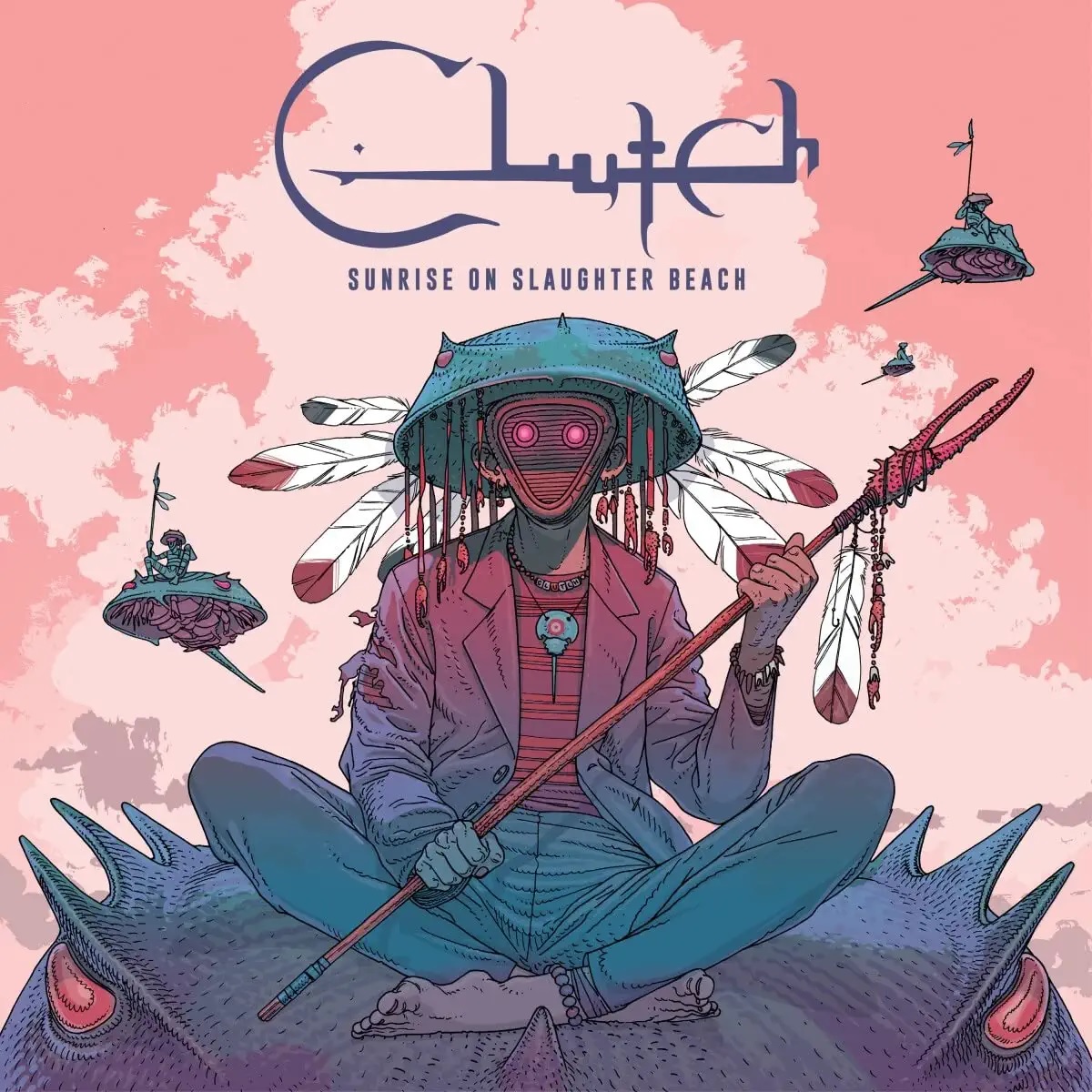 Rarely do bands stand the test of time, especially with the original lineup of studio members, but Maryland's Clutch is one of them. Nearly 30 years since their release of Transnational Speedway League in 1993, Clutch's lineup of Neil Fallon (vocals), Tim Sult (guitars), Jean Paul Gaster (percussion), and Dan Maines (bass) are still rocking hard, touring the world, and releasing new albums on their own Weather Maker Music label. September saw the release of Clutch's 13th album, the highly anticipated Sunrise on Slaughter Beach. The album is Clutch's grooviest, most ambitious and diverse album in recent years, and with the addition of some firsts such as theramin and backing vocals, proves that Clutch is still as innovative and creative as ever. It follows Book of Bad Decisions which was released in 2018.
Slaughter Beach is made up of 9 songs, clocking in at a brisk 33 minutes. It was recorded in Baltimore, MD at the The Magpie Cage Recording Studio, produced and mixed by Grammy nominated Tom Dalgety, with additional engineering by J Robbins of The Sword production fame, who also provided theramin. According to Fallon, "Sunrise on Slaughter Beach is a weird record. It was, by and large, a studio creation. It reminds me a lot of Jam Room in that regard. Under normal circumstances we may not have entertained the idea of using vibraphones, theremin, or backing vocals (thank you Deborah Bond and Frenchie Davis!). But as they say, necessity is the mother of weirdness." And like Jam Room, the album is noticeably groovier and heavier on the lower end than recent releases.  
1. Red Alert (Boss Metal Zone) 2:45
2. Slaughter Beach 3:41
3. Mountain of Bone 4:23
4. Nosferatu Madre 3:27
5. Mercy Brown 5:15
6. We Strive for Excellence 2:55
7. Skeletons on Mars 4:10
8. Three Golden Horns 3:26
9. Jackhammer Our Names 3:08
Red Alert (Boss Metal Zone) opens the album with some seriously groovy, odd time sections that hearken back to Elephant Riders days. Slaughter Beach is a headbanger that introduces a nice slow groove with some killer guitar hooks and a Strange Cousins from the West vibe. Listen for Sult and Maine's middle-eastern style bass/guitar lead. Mountain of Bone features lots of cool changeups and a krautrock feel, with a hypnotizing, spaced out guitar riff that breathes over Gaster's and Maine's machine-like rhythm. Nosferatu Madre has a nice shuffley feel with a slower tempo. Listen to that killer bass tone and a great drum sound, some beautiful backing harmonies, and some of Fallon's trademark Spanish lyric references.
Mercy Brown has another bluesy shuffle, and listen for Sult's trademark wah and phaser work on the guitar. The song lyrics reference the Mercy Brown vampire incident which took place in Rhode Island in 1892. We Strive For Excellence is a hooky, high octane ride; a Fu Manchu type track that would fit right in on a skate video. Skeletons on Mars is another high energy track with sci-fi lyrics and some spacy guitar layers. Fallon's references to Greek figures and geographic points on Mars would fit right in on 2004's Blast Tyrant. Three Golden Horns has a groovy intro, and some tongue in cheek references to Roland Kirk and jazz music. Listen for Gaster's vibraphone, a Primus style guitar lead, and some sick changeups at the end. Jackhammer Our Names marks a lower key ending for the album, with some of Fallon's trademark, stream of consciousness lyrics with religious references.
Sunrise on Slaughter Beach is available on Clutch's merch page: CD for $10, vinyl for $22, cassette for $13, and digital download for $5. The band is currently supporting the new album with a fall tour of North America, Europe, and the UK. The band is active on their website and social media.
TOUR DATES
OCT 4 The Van Buren – Phoenix, AZ

OCT 5 Regent Theater – Los Angeles, CA

OCT 7 Aftershock 2022 – Sacramento, CA

OCT 8 Knitting Factory Concert House – Boise, ID

OCT 9 Roseland Theater – Portland, OR

OCT 10 Showbox SoDo Seattle, WA

OCT 12 The Depot – Salt Lake City, UT

OCT 13 Fillmore Auditorium – Denver, CO

OCT 14 Uptown Theater – Kansas City, MO

OCT 15 Val Air Ballroom – West Des Moines, IA

OCT 16 Concord Music Hall – Chicago, IL

NOV 11 O2 Academy Glasgow – Glasgow, United Kingdom

NOV 12 O2 City Hall Newcastle – Newcastle Upon Tyne, United Kingdom

NOV 13 O2 Academy Leeds – Leeds, United Kingdom

NOV 15 University of Exeter Great Hall – Exeter, United Kingdom

NOV 16 Brighton Dome – Brighton, United Kingdom

NOV 18 Capitol Hannover – Hanover, Germany

NOV 19 Helldorado Festival 2022 – Eindhoven, Netherlands

NOV 20 Markthalle – Hamburg, Germany

NOV 22 Huxleys Neue Welt – Berlin, Germany

NOV 23 Neue Theaterfabrik – München, Germany

NOV 24 Arena Vienna – Wien, Austria

NOV 25 Culture Factory – Zagreb, Croatia

NOV 26 Fabrique – Milan, Italy

NOV 28 Sala Apolo – Barcelona, Spain

NOV 29 Sala Riviera – Madrid, Spain

DEC 2 Le Bikini – Ramonville-st-agne, France

DEC 3 Transbordeur – Villeurbanne, France

DEC 5 X-tra – Zurich, Switzerland

DEC 6 LKA Longhorn – Stuttgart, Germany

DEC 7 Batschkapp – Frankfurt Am Main, Germany

DEC 9 Live Music Hall – Cologne, Germany

DEC 10 Bataclan – Paris, France

DEC 11 Ancienne Belgique – Brussels, Belgium

DEC 13 O2 Academy Bristol – Bristol, United Kingdom

DEC 14 O2 Academy Birmingham – Birmingham, United Kingdom

DEC 15 O2 Apollo Manchester – Manchester, United Kingdom

DEC 16 Rock City – Nottingham, United Kingdom

DEC 17 Roundhouse – London, United Kingdom