Goat is less of a band and more of a collective, shrouded in mystery and ritual. According to Stranded Records, "The group has laid claim to hailing from an isolated Swedish village with a convoluted history of numerous, constantly evolving incarnations of a band called Goat, all loosely aligned with voodoo rituals that were imported aeons ago from Africa." Releasing albums since 2012, Goat is known for their intense and mystical live shows, featuring two female vocalists singing in duet, backed by robed instrumentalists, bringing audiences into trance with layer upon layer of trippy, psychedelic patterns, forming a retro, tribal sound. Their trance-inducing repetition and thick, 70's style groove is unmatched but very influential. Check out Goat if you dig the psychedelic musings of bands like King Gizzard, Dead Meadow, and Orions Belte.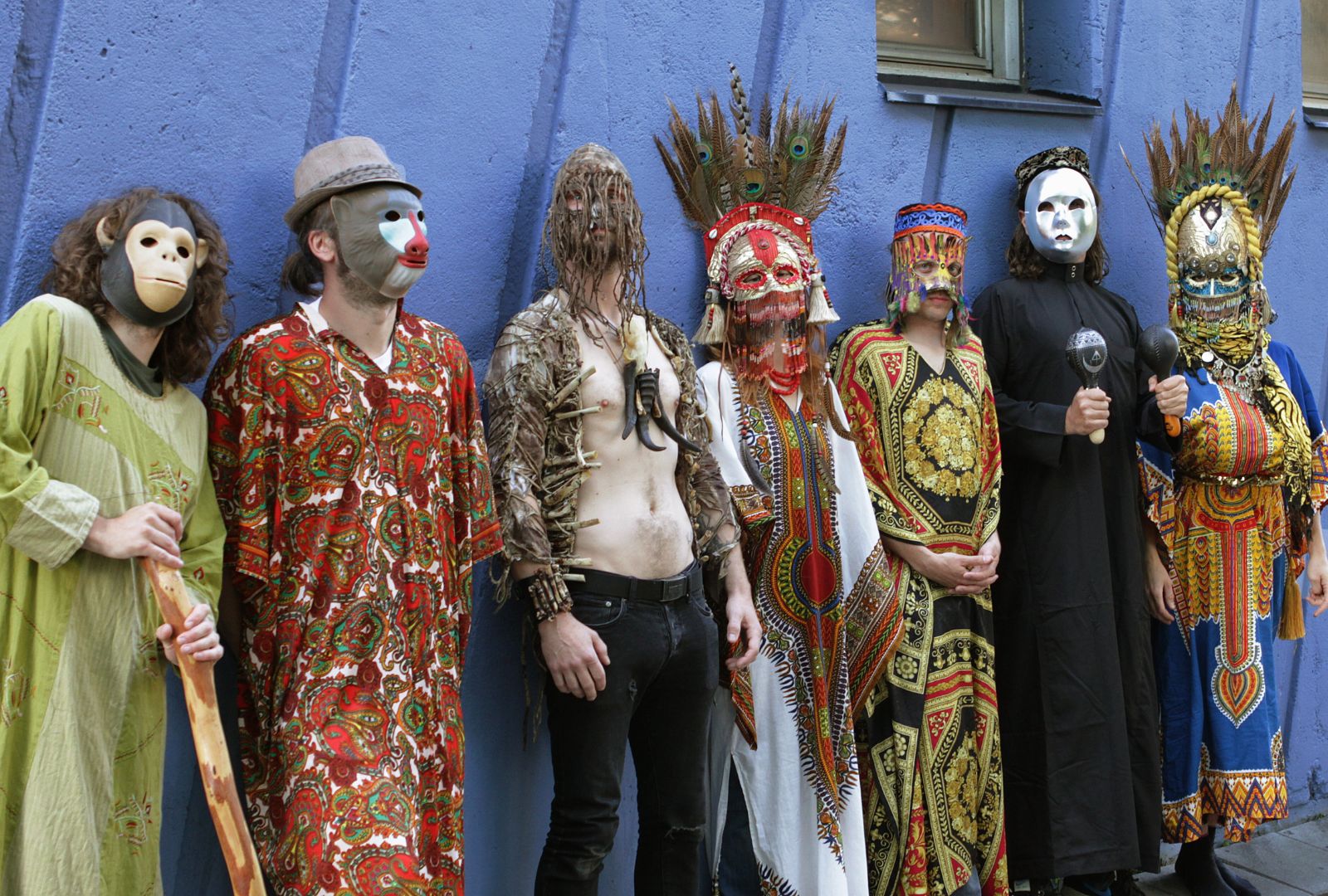 1. Soon You Die 4:34
2. Chukua Pesa 2:24
3. Under No Nation 4:17
4. Do The Dance 3:14
5. Apegoat 1:29
6. Goatmilk 4:10
7. Blow The Horns 4:01
8. Remind Yourself 3:20
9. Blessings 1:06
10. Passes Like Clouds 5:11
Released in October, Oh Death is Goat's fourth album. It follows their last studio release, 2016's Requiem, as well as 2021's Headsoup, an album of rare and unreleased tracks. Like their first three albums, Oh Death has Goat's distinctly recognizable sound. The guitars stand out with plenty of 70's style funk riffs, making use of lots of wah pedal, tremolo, and delay action. Listen to opener, Soon You Die, as well as Under No Nation for some truly funky guitar work. There are also some nice guitar solos, like on Do the Dance and Remind Yourself, as well as an awesome dual guitar lead on Blow the Horns. On the bottom end, the drums deliver plenty of tight, awesome patterns. Occasionally, cool, tricky fills are thrown, notable on Goatmilk, but most of the time the drums play it cool, instead relying on the trance like effect of repetitious rhythms. The beats are complex and intensely pattern oriented, drawing from various world music influences, even having a Polynesian feel like on instrumental closer, Passes Like Clouds. The bass tones sound great, with some fat, funky tones, at times reminding me of Al Cisneros of Sleep and OM fame. Listen to Under No Nation and Remind Yourself for a some good examples. Above it all, the twin vocal melodies weave in and out, continually delivering plenty of catchy melodies. Don't miss insanely catchy vocal melodies on tracks like Do the Dance, Goatmilk, and Blow the Horns.
Like their previous work, Oh Death also is heavily layered with diverse instrumentation sourced from around the world. Listen for awesome hand percussion additions throught the album, especially the tabla type which shine through on Chukua Pesa (Incidentally, Chukua Pesa is Swahili for "Take your money"). If you're listening with headphones, check out the awesome psychedelic tribal rhythms on Remind Yourself, which bounce back and forth between the left and right ears in stereo. A beautiful piano tone, as well as some cool wind instrument leads comes in key on the album, especially on the jazzy Goatmilk, a personal favorite track. Also, listen for a very tasteful piano solo on the short experimental track, Blessings, which I feel balances out the bizarrely experimental Apegoat track, which was the only song on the album that had me searching for the 'next track' button. Luckily it's very short.
Overall, Oh Death is a super listenable and catchy album, standing among Goat's best work since World Music. You can find the album on Bandcamp. The CD is available for under $13 and the digital album is $8. Vinyl is currently sold out. The band distributes their music through Subpop, Rocket, and Stranded Records. The band is active on social media and Youtube. Check them out on their upcoming European concert dates.
TOUR DATES
NOV 8 Knust – Hamburg, Germany

NOV 09 Kulturkirche – Köln Köln, Germany

NOV 14 Festsaal Kreuzberg – Berlin, Germany

JAN 25 Rockefeller – Oslo, Norway

JAN 26 Plan B – Malmö, Sweden

JAN 27 Slaktkyrkan – Stockholm, Sweden