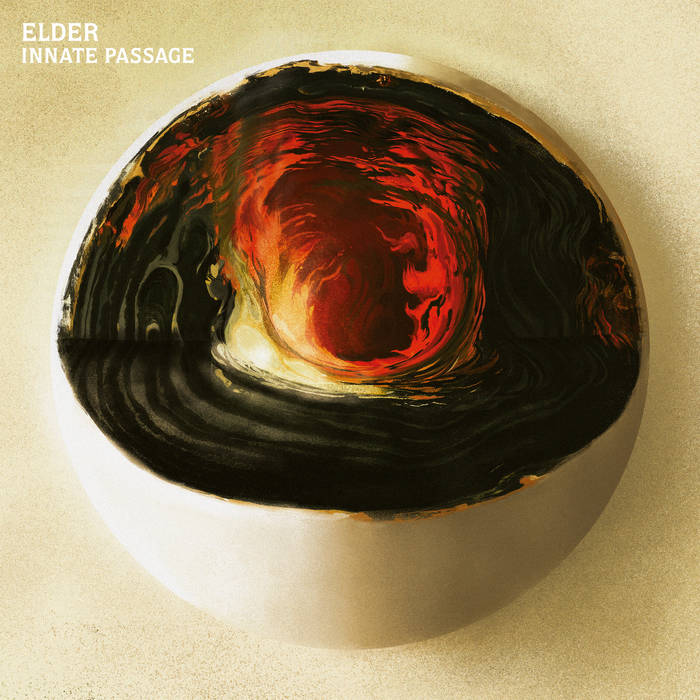 Elder is a four-piece heavy psych band based in Berlin, Germany. Originally from Boston, Mass, the band was formed by founding guitarist and vocalist, Nick DiSalvo and bassist Jack Donovan. The current lineup includes Mike Risberg on guitars and keys and Georg Edert on drums. Since their formation in 2006, the band has been continuously evolving, adding new elements to their sound. What started as primarily a Sleep-worshipping stoner rock band has significantly grown and developed over the last decade and a half. Through the course of their career, collaborating with other bands, touring the world, and continually experimenting and adding musical elements, the band has crafted a progressive, psychedelic, genre-bending sound that is always recognizable as Elder.
The band released Innate Passage on November 25. It follows 2021's Eldovar, a collaboration with Kadavar, and their 2020 full length, Omens. Innate Passage clocks in at 54 minutes with 5 tracks. The album was recorded and mixed by Linda Dag at Clouds Hill Studio in Hamburg and mastered by Carl Saff. The intriguing artwork was produced by Adrian Dexter, a legend in the stoner rock art community who has produced all of Elder's album art.
Calling the album anything other than ambitiously grandiose and epic would be a huge understatement. The songs are long, with each song hovering around the 10 minute mark or more, and each track is like a tapestry or a painting, continually revealing layer after psychedelic layer as it unfolds. The songs tend to be elaborately constructed and unpredictable in their arrangement, but the flow and catchiness of the tracks will draw you in. It may sound oxy-moronic, but this is exactly the type of heavy music you could equally head bang or fall asleep to, both energetic and relaxing.
1. Catastasis 10:50
2. Endless Return 9:54
3. Coalescence 9:47
4. Merged In Dreams – Ne Plus Ultra 14:43
5. The Purpose 8:37
Elder's trademark harmonies are ever present in Disalvo's endlessly creative chord progressions and soaring guitar leads. Listen to the opener, Catastasis, for some awesome chord progressions and some incredibly fretboard-sweeping patterns on Endless Return. His vocal style is strong, with well-delivered melodies and occasional harmonies like on the opening track. The lyrics on Innate Passage are abstract, with poetic, philosophical observations and societal commentary, in the tradition of past albums.
Risberg's guitars and diverse keys on the album are huge, adding beautifully to the sonic richness and dreamy nature of the album's well produced sound. Check out Endless Return and Merged in Dreams for some awesome dual guitar leads. The keys tones run the gamut, with orchestrated sounds on Catastasis, spacy sounds on Endless Return, synths on Coalescence, with plenty of psychedelic tones in between. Listen closely to The Purpose to hear Risberg's spacy keyboard interplay with Donovan's absolutely heavy bass line.
Underneath it all, Donavan and Edert hold things in the pocket with a tight and driving rhythm section. Donavan's bass tone is thick and beefy on Coalescence, which also features some tricky time signature work reminiscent of Rush in their heyday. Edert drums with the utmost complexity and flow but without being flashy or standing out. The album merits relistens just to try and figure out some of his timing on tracks like Coalescence. There's plenty to explore in the band's tight and complex song structures, especially on the nearly 15 minute Merged in Dreams, with trippy keys and guitars that build to possibly the heaviest ending on the album.
Innate Passage is available for streaming on Bandcamp, with digital album download available for $7. Physical copies of the double LP are available through Armageddon Shop in the U.S. and Stickman Records in Europe. Check out the band's merch page and follow them on social media.