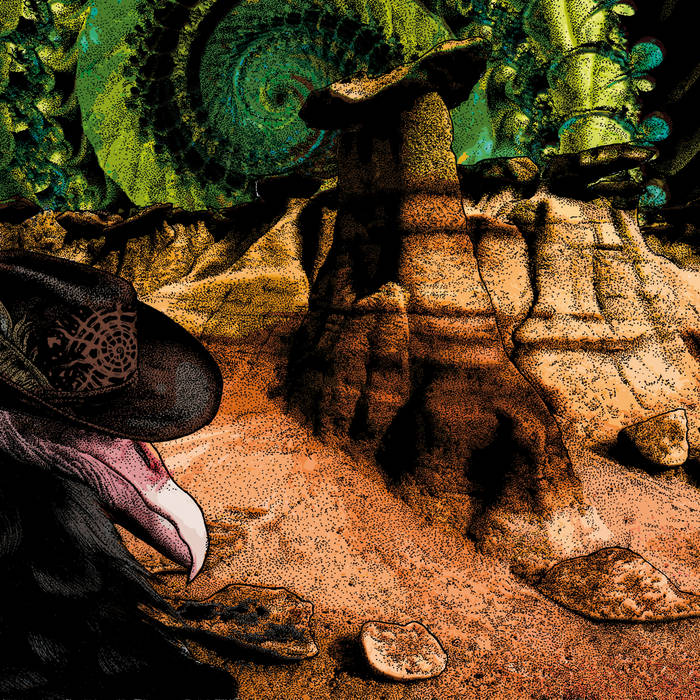 *** SCROLL TO THE BOTTOM OF THIS ARTICLE FOR A FREE SONIC SOFA STICKER OFFER!! ***
This album review comes with bittersweet news: Cleõphüzz, the five piece desert rock band from Ville Marie, Quebec, unique for their addition of cello in the mix, have announced that they are parting ways, citing problems related to the pandemic. Lucky for us, they were able to rally their forces one last time to release Mystic Vulture, their epic final album.
Mystic Vulture is the group's second full length, a followup to 2018's Wizard of Ph​ü​zz. The album has everything you could wish for from a stoner rock album, from spacious sounding drums and gnarly riffs, to the huge, spaced-out sound, down to the psychedelic desert scape cover artwork by Tessa Najjar. Going back to that "huge, spaced-out sound," it's refreshing to note that this album really 'breathes,' with the band taking time to establish psychedelic auras, explore riffs, and really jam. The eight song album clocks in at 47 minutes. It was recorded and mixed by Francois Lachapelle during the pandemic and released in February.
1. THE END 2:32
2. DESERT RIDER 5:54
3. SORTILÈGE 4:15
4. DESPERADO 9:02
5. SARCOPHAGE 3:27
6. WHEN THE SIREN BLOWS 6:49
7. MYSTIC VULTURE 6:32
8. SUNDOWN IN THE AFTERLIFE 8:01
The album is mostly composed of instrumental tracks, which are given cinematic quality by the cello, notably on opener, The End, and closer Sundown in the Afterlife, which features a cool symphonic ending with some beautifully harmonic resolution. The grungy vocals come in to play on the swaggery riffer, Desert Rider. Listen for some Alice in Chains-esque harmonies on Desperado, which also features some heavy guitar progressions and a cool grindy organ.
A great album from psychedelic start to finish, Mystic Vulture can be found on Bandcamp. Digital download is available for $5. There's no word of a physical release given the band's current status. The band still maintains an active social media presence. Check out this interview with guitarist, Alex Savourin, for more insight into the band's creative process, influences, as well as their disbanding. Hopefully they will reunite someday and give us a chance to hear these tracks performed live.