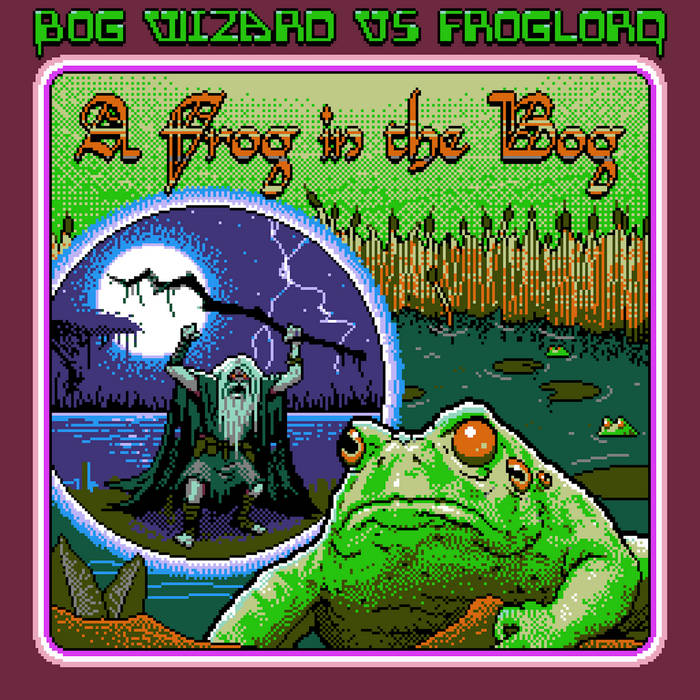 A Frog in the Bog is the concept record collaboratively produced by the UK's Froglord and Michigan's Bog Wizard. The two stoner doom bands, known for their D&D style narratives, came together from across the Atlantic expanse to document the meeting of the reclusive Bog Wizard and the god-like Frog Lord, resulting in magical and smoky adventures in the depths of the bog.
Bog Wizard starts the album with two tracks, Reptilian Death Squad and Frog Lord, whose doomy riffs and tortured, operatic vocals document the Frog Lord and and his followers' invasion of the marsh, and of a magical interaction with the Wizard of the Bog, mostly from the Wizard's perspective.
Froglord provides the next two tracks, The Bog, and The Wizard. They tell the tale from the perspective of the Frog Lord, attempting to convert Bog Wizard to his cult, and then preparing to do battle. Don't miss the gnarly blast beats on The Wizard, and keep an ear out for movie sound-bytes, including one from Labyrinth, during the two tracks.
The final track, The Bog Wizard, featuring both bands, tells the epic and surprising tale of the final encounter. Who will win the equally matched battle or will the slimy bog take them both? Listen to the album and experience the full smoky climax to find out what happens.
There's a lot to like from these two bands and this album. First, the contributions by both bands as well as their song collaborations gives the album a fun mixtape kind of feel, yet with the benefit of having a cohesive narrative, and the retro, 16-bit album art by Benjamin Blåholtz is a great throwback. The digital album can be found on Bandcamp where it is also available on vinyl, CD, and cassette while supplies last. Also check out the merch page for all kinds of cool gear, including album art prints, stickers and patches.