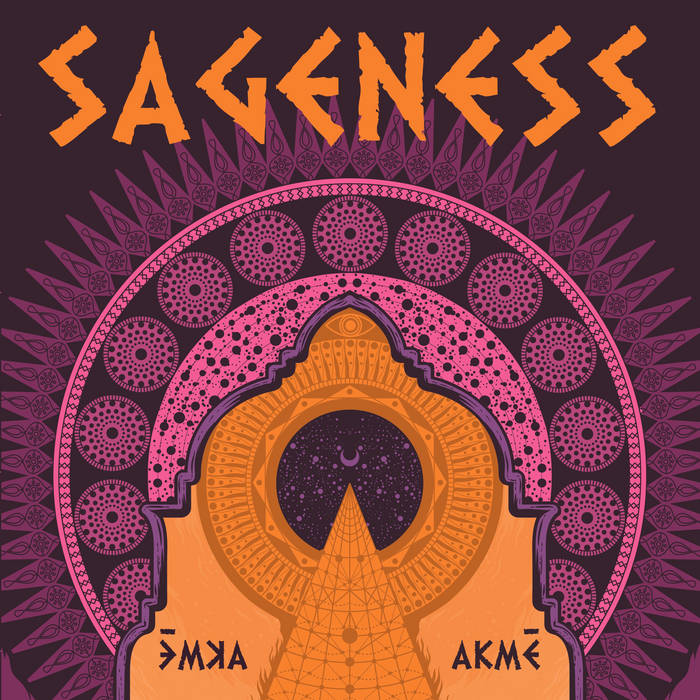 Sageness is a heavy-psych trio that hails from Leon, Spain. The band produces instrumental, psychedelic music with healthy doses of stoner and post-rock. Akmé, their second full length after their self-titled album in 2017, was released on February 23rd. Rich textures and complex arrangements characterize the songs. Ethereal guitar parts overlay in-the-pocket drum and bass grooves. Parts of the album have progressive qualities, and everything on the album is listenable and enjoyable, with the haunting guitar melodies more than taking the place of vocals. Akmé is a great example of a band whose members are synced together and really listen to each other. Their album features beautiful art by Diogo Soares and you can buy the digital album or CD on bandcamp.
"plenty of full-blooded riffs"
Andromeda, the first track, is an easy flowing opener that clocks in at just above seven and a half minutes. The song takes its time to develop up and take form, exploring arpeggiated guitar leads early in the song before developing into plenty of full-blooded riffs later on. Fans of the album Dead Roots Stirring, by Elder, will appreciate the rich guitar tones on this song.
The second track, a nine minute composition entitled The Thought, opens with heavily driving bass, spacey effects and ethereal guitar sounds, while the drums lay down a lively, funky beat that holds the song elements together. The band alternates between jams that allow the song to breathe, and moments of progressive syncopation. Great use of the wah pedal is made later in the song, and there are moments when the guitar leads even have a surfy vibe that is just fun to be carried away on.
Sizigia is the shortest track on the album, clocking in at four minutes and 19 seconds, but what it lacks in length is made up for in catchy guitar hooks and pleasing tones. By contrast the next song, Ephemeral, is the longest song on the album, clocking in at nearly 10 minutes, and is a sprawling track that really should be thought of more as a complex composition, with many transitions, than simply as a song.
"a progressive, post-rock journey"
A thought that crossed my mind continuously while listening to this album was how tuned in the musicians of Sageness are with each other. The next track, Mindbender, is a great example of this. The group takes us on a progressive, post-rock journey. Don't miss the last half of the song when the track makes a swift turn into a galloping stoner rock riff to finish things off.
The album wraps up with Hydro. Wonderfully melodic guitar leads more than take the place of vocals on this one. The end of the song features some tight drum and bass progressions, over laid by heavy effected guitar lines, with amazing results.
Overall, the album really is a good showcase for these proficient musicians, who are in tune with each other and their craft. It's tempting to think that on a 42 minute album with no vocalist (not to mention three songs that are over the seven minute mark) the songs might tend to be drawn out and boring, but this can't be less true. There are plenty of transitions to keep things moving and interesting, and the guitar dramatically takes the place of vocals. Akmé is well worth repeated listens.
March 23 Babylon Leon – Leon, Spain W/ Raw Colors