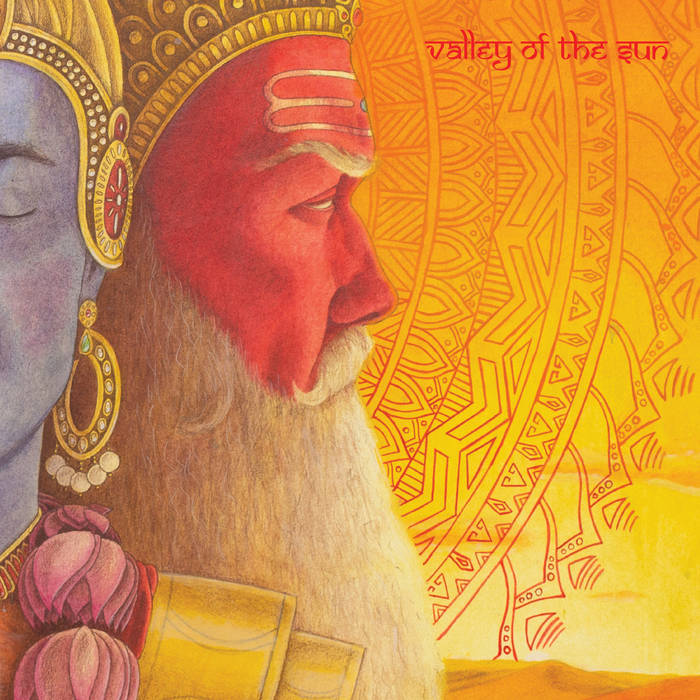 Valley of the Sun is a stoner rock band from Cincinnati, Ohio. The group produces driving desert rock with melodic vocals. Their riffy songs are known for being upbeat and positive. The band is made up of Ryan Ferrier on guitar and vocals, Aaron Boyer on drums, and new member Chris Sweeney on bass and keys. Josh Pilot is also part of the lineup as touring guitarist.
Their new album, Old Gods, will be released on May 24th through Swedish label, Fuzzorama Records. Singer Ryan Ferrier revealed that the album explores themes such as addiction, fear, uncertainty, and loss. Ferrier also cited the death of his sister, soon after work completed on their last album, 2016's Volume Rock, as a major influence on his writing for this record. The album features beautiful artwork with religious iconography and a mandala, and many of the songs make references, at least in their titles, to Hindu gods such as Shiva and Gaia.
The band has released a single from the upcoming album called Means the Same. The song is super catchy and upbeat, with plenty of melodic vocals and guitar leads. Boyer's percussion work is planned out and well produced, with punchy drums and great sounding cymbals. Listen for the cool stereophonic drum fills in the intro. The rhythm guitar and bass meld perfectly, overlaid by Ferrier's lively guitar leads, intertwining melodies with the vocals. The lyrics are reflective and the vocals are performed confidently. The result is something akin to Colour Haze and Corrosion of Conformity. Pre-order the album on Bandcamp and check out the single, Means the Same, today.
Tour Dates
April 13 Cactus Club – Milwaukee, WI
April 14 Wildwood Smokehouse and Saloon – Iowa City, IA
April 15 Bigs Bar – Sioux Falls, SD
April 16 The Aquarium – Fargo, ND
April 17 Windsor Hotel – Winnipeg, Canada
April 18 Amigos Cantina – Saskatoon, Canada
April 20 420 Fest – Calgary, Canada
April 21 Starlite Ballroom-Temple – Edmonton, Canada
April 23 The Astoria – Vancouver, BC
April 24 The High Water Mark – Portland, OR
April 25 The Funhouse – Seattle, WA
April 27 Cafe Colonial – Sacramento, CA
April 28 Starline Social Club – Oakland, CA
April 29 Resident -Los Angeles, CA
April 30 Club Red – Mesa, AZ
May 02 Come and Take It Live -Austin, TX
May 03 Lola's Saloon -Fort Worth, TX
May 04 89th Street – Oklahoma City, OK
May 05 Fubar – Saint Louis, MO
May 06 Riot Room – Kansas City, MO
May 08 Reggie's – Chicago, IL