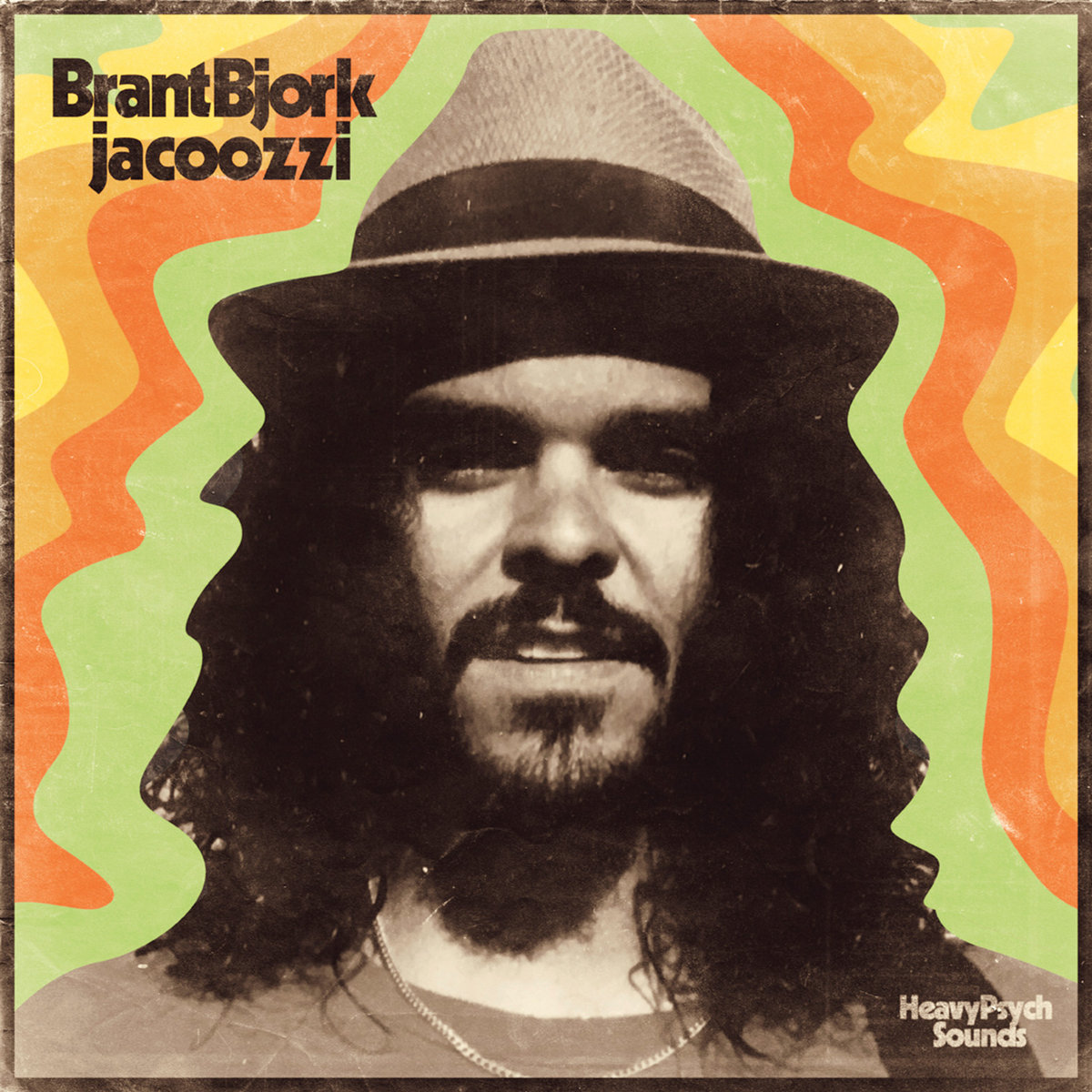 Brant Bjork is a name that is almost synonymous with desert rock. He's a multi-instrumentalist from Palm Desert, California, so prolific that he has an entire wikipedia page about his discography. He was a founding member of Kyuss, playing on seminal albums such as (Welcome to) Sky Valley and Blues for the Red Sun. He also played for a time in Fu Manchu, recording albums such as California Crossing and No One Rides for Free. In addition to his work with other bands, he also has an impressive lineup of solo releases.
His newest album, Jaccoozzi, was released on April 5, and is being advertised as a sort of lost album. The album was recorded in 2010, but immediately shelved. This was because Bjork had decided to tour with John Garcia and Kyuss Lives, but also because Bjork's time in the studio did not go as expected. Bjork had gone to a house in Joshua Tree, CA to record material for his next solo album, but personal life changes as well as feeling burned out from extensive recording and touring caused him to change his plans. Bjork decided to scrap his original project and focus on creating improvised jams. While his sound engineer ran tape, Bjork laid down his drum beats first and then layered the songs with bass and guitar tracks, as well as occasional organs. The whole album is swingy and groovy and except for the final track, completely instrumental. There are plenty of jazzed up, psychedelic, desert-rock patterns that serve as jam tracks for Bjork to creatively elaborate on and explore. The album features some driving tribal beats and percussion, crunchy extended riffs, tasty guitar leads, and a fat bass sound. Whether you're out grilling in the backyard, road-tripping through the desert, or chilling in the hottub, Jacoozzi will make for an awesome summer soundtrack.
The first track, Can't Out Run the Sun, is a nearly eight minute song, built around the concept of a driving, tribal drum beat and heavy delay effects on the guitars. There are plenty of psychedelic, trance inducing patters that develop as the song adds guitar layers throughout.
The second track, Guerilla Funk, introduces hand percussion and a crisper bass sound, and funking it up as the name implies. Bjork's heavy cymbals, completely allowed to ring out on the recording, sound so good, paired with the huge, ringing drum sound. The track clocks in at 7:20.
At half the length of the first two tracks, Mexico City Blues is a smooth, 12-bar based song that features drums beats with a slightly Latin feel. The tasty guitar leads make this one perfect for a twilight drive through the high desert.
Bjork explores a solo instrumental drum track on Five Hundred Thousand Dollars. It's a 43 second bash fest on the drums that completely grooves. Black and White Wonderland slows things down with a very solid rhythm pattern between the drums and bass, paired with a very listenable guitar riff.
Oui picks up the pace with plenty of wah pedal and driving, tribal patterns on the drums. The whole track plays like a psychedelic surf song. Mixed Nuts follows it up in a laid back, jazzy way. There are some tasty bell taps on the cymbals, and some great harmonies between the bass and guitar.
Around the half minute mark, Lost in Race features a heavy bass riff, a great return of the hand percussion, and a huge drum sound. Organ tracks add a cool counterpoint melody throughout the song, sometimes dissonant, but adding to that improvised, jazzy feel.
The four minute track, Polarized, brings in several cool heavy psych elements, including, a backwards drum track, very fuzzy, feedbacky guitars, and a detached sounding piano line, that lays down the palpable rhythm melody of the song. The high pitched piano and guitar tones contrast nicely with the deep bass and dub-like drum beat.
Do You Love Your World? is the only track on the album with vocals. The song has a great classic rock sound and Bjork's vocals, though a little quiet in the mix, sound clear and heartfelt. Perhaps this bit of vocal musing was a remnant of Bjork's original material that carried through to, or maybe it was just something he came up with at the moment.
The important thing to remember is that this is an improvised jam album, halted before fruition, and presented in raw form, so if that sounds good to you, check out Brant Bjork's Jacoozzi and get ready to groove.
Tour Dates
May 25 Pappy & Harriet's – Pioneertown, CA
June 19 Hirsch – Nuremberg, Germany
June 24 Musikbunker – Aachen, Germany
June 25 Centralstation – Darmstadt, Germany
June 26 Musik Zentrum Hannover – Hanover, Germany
June 29 Austria Rockhouse – Salzburg, Germany