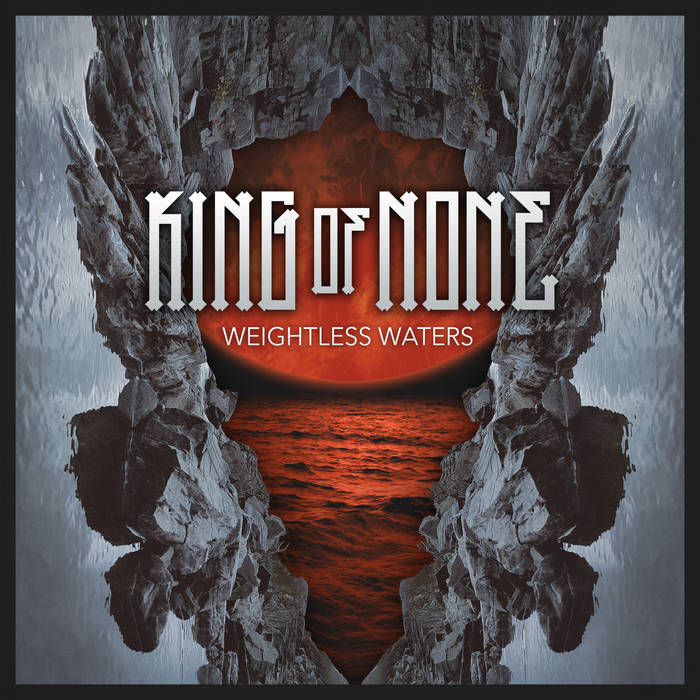 King of None is a hard-rock band from Helsinki, Finland. They produce riffy hard rock, with plenty of stoner and prog-rock elements. From the remnants of previous projects, the band was formed by vocalist Miiro Kärki, guitarist Aleksi Kärkkäinen, drummer Patrick Enckell, bassist Juho Aarnio, and guitarist Juha Pääkkö. The group has produced three EPs: the self-titled King of None in 2015, 2016's Trouble by the Score, and most recently, 2019's Weightless Waters.
Weightless Waters, released on April 28, 2019, is composed of six heavy songs. It's a high energy ride that is arguably their most polished, mature EP to date. The songs range from four and a half to seven minutes. Each song is crisp and tight and it's a headbanging, hard rock ride from start to finish.. The artwork was produced by musician and artist, Petri Lampela. The album is available for sale on Bandcamp and is also available for streaming on Spotify and YouTube.
Throughout the album, the vocals are melodic with aggressive, occasionally growly touches. Always on pitch, they pair well with the groovy, crunchy compositions. Thematically, the lyrics cover a number of topics. Starbirling and Desolator contain sci-fi elements as well as some hints at self-examination and perhaps absurdism. Worlds Collide and the opener, Words of Mine, seem to be more introspective, with the latter even tipping the hat to Carly Simon's You're so Vain. Frog Palace and Yellow Snake King contain fantasy-like lyrics, more typical to stoner rock.
Musically, the entire album is very tight. The guitars are heavy and over driven. There are some great wah pedal riffs, like on Yellow Snake King, as well as some creative double guitar leads, notably in Worlds Collide. Heavy walls of guitars will blow you away, like the fantastically slow and heavy intro to Desolator, but they prove in the same song that they are able to explore softer, more subtle moments, with psychedelic tinges.
The drums and bass are always locked together, like a tight, rhythmic force. The bass sounds heavy and chunky, and can be heard really well on the opening of Yellow Snake King. The drums are relentless, shuffling along with a constant barrage of fluid beats and drum fills, including lots of double kick-pedal work. There's some nice use of a china cymbal and some intricate drum work on Frog Palace, as well as some really shuffly grooves throughout the album.
King of None have proven once again that they can produce some awesomely fast paced, intricate hard rock. Weightless Waters is an EP that will reward repeat listens, and should be in your music rotation. Support the group by purchasing the EP on Bandcamp today and check out their track, Desolator, below.