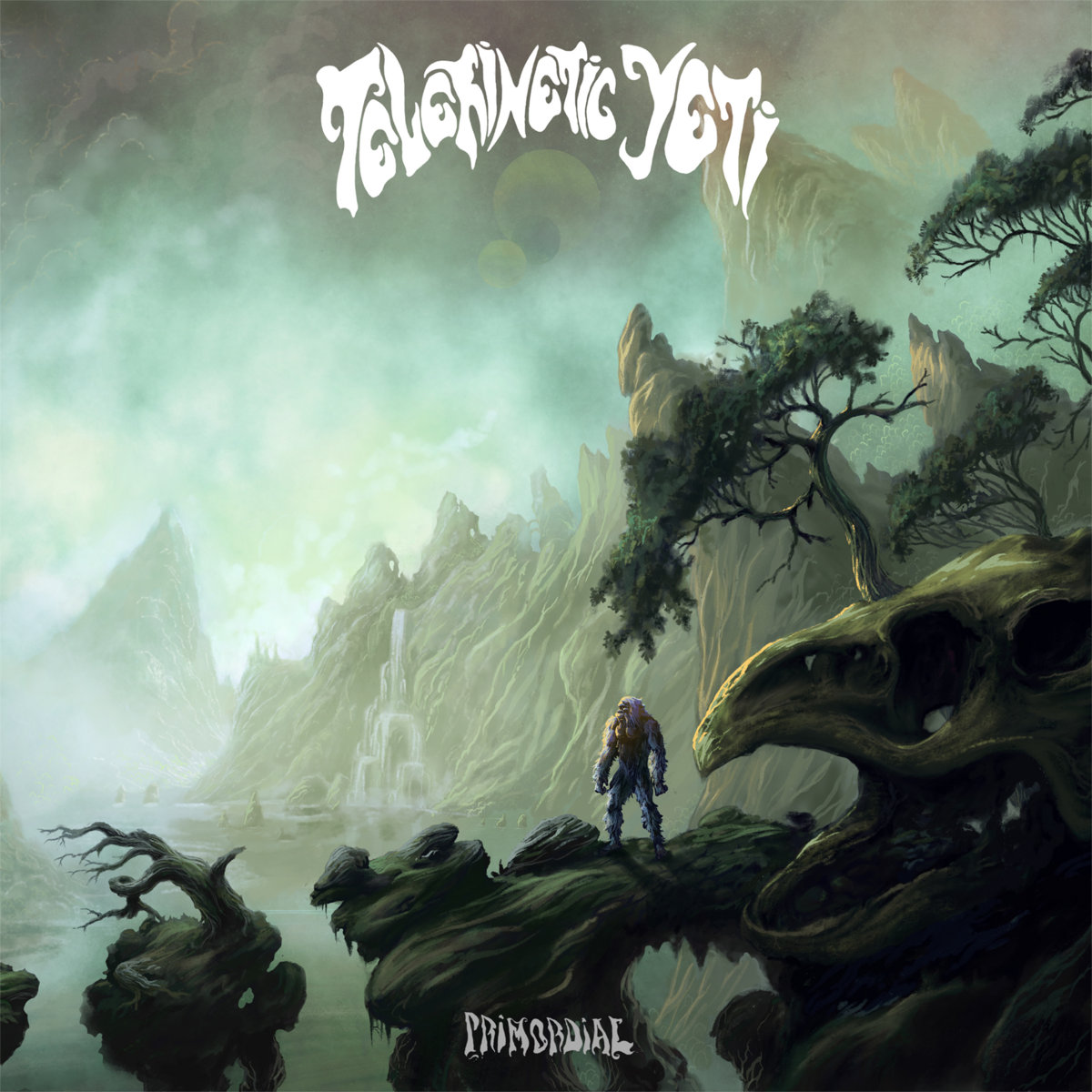 Telekinetic Yeti is a stoner rock duo hailing from Dubuque, Iowa. Formed in 2015 on the basis of progressive guitar riffs, exploratory drum beats, and purely stoner rock lyrics, the band released their first album, Abominable, in 2017. Now, after five years and a change of drummers, Telekinetic Yeti is back with their much awaited second full-length, Primordial.
In the great tradition of stoner doom bands like Sleep and The Sword, Telekinetic Yeti brings progressive doom metal action from start to finish. Founding guitarist and vocalist, Alex Baumann, masterfully layers guitar tracks, developing a rich, full, and heavy sound, replete with chugging riffs and progressive patterns oozing with bluesy groove. Armed with an arsenal of guitar effects and pedals, Baumann's interaction with the drums is tight and dynamic, constantly progressive and in the pocket. Listen for catchy, provocative leads which often take the place of vocals throughout, and especially on instrumental tracks, Stoned Ape Theory and Invention of Fire.
However, vocals do come more into play on Primordial, with Baumann displaying a more developed and sophisticated vocal range. The vocal styles make use of melodies and aggressive delivery. Lyrical imagery includes references to humanoids like in Beast and Cult of Yeti. Classic stoner rock topics abound in Toke Wizard and Rogue Planet, as well as with weed references in Ancient Nug and Ghost Train Haze.
Rockwell Heim joined the band in 2019, replacing founding member, Anthony Dreyer. Rockwell's style is fluid and progressive, both complementing and exploring Baumann's riffs. Heim brings the heaviness of drummers such as Chris Haikus and Jason Roeder of Sleep and mixes it with the complexity and speed of drummers like Wingo Trivett, original drummer of The Sword. In fact, Rogue Planet may be one of the fastest songs in their arsenal, driven by Heim's fast, galloping beats. Listen for examples of Heim's progressive complexity on tracks like Ancient Nug and Stoned Ape Theory. Don't miss heavy changeups, syncopated patterns, and heavy breakdowns on most of the tracks, notable on opening track, Primordial, and Cult of Yeti.
The album is available on Bandcamp for digital download for $11. Vinyl is available in multiple color combinations through TeePee Records for $25. Do yourself a favor and listen to this album on the physical LP. It's also available on CD for $13. The band is currently on tour promoting their new release with tour dates listed below. The band is active on social media.
Tour Dates
Jul 28 Smalls – Detroit, MI
Jul 31 Revival Room, Southgate House Revival – Newport, KY
Aug 01 The Empty Bottle – Chicago, IL
Aug 03 Lyric Room – Green Bay, WI
Aug 04 Wildwood Saloon – Iowa City, IA
Aug 06 Reverb Lounge – Omaha, NE
Aug 07 Globe Hall – Denver, CO
Aug 08 Aces High Saloon – Salt Lake City, UT
Aug 10 Substation – Seattle, WA
Aug 11 The Shakedown – Bellingham, WA
Aug 12 Rickshaw Theater – Vancouver, BC
Aug 13 The Bossanova Ballroom – Portland, OR
Aug 14 Cafe Colonial – Sacramento, CA
Aug 16 Bottom of the Hill – San Francisco, CA
Aug 17 Gigi's Cocktail Lounge – Ventura, CA
Aug 18 The Echo – Los Angeles (LA), CA
Aug 19 Yucca Tap Room – Tempe, AZ
Aug 21 89th Street – Oklahoma City, OK
Aug 23 Exit In – Nashville, TN
Aug 25 Record Bar – Kansas City, MO
Aug 26 Red Flag – St Louis, MO
Aug 27 Skylark – Rock Island, IL
Aug 28 The Lift – Dubuque, IA
Aug 29 7th St Entry – Minneapolis, MN