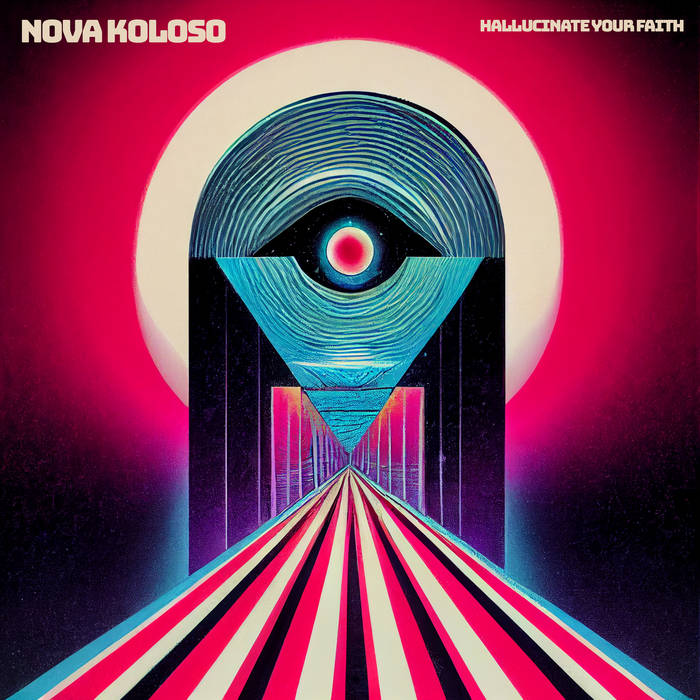 Nova Koloso is a heavy psych, alternative rock band from Baltimore, Maryland. The group formed during the pandemic by brothers Mark and Tom Colegrove. With Tom on drums and Mark covering everything else, the duo produces a fast paced blend of progressive psych rock, with plenty of jamming and layering of all kinds of groovy guitar sounds and catchy keyboard tones, topped off with grungy vocals. Their Self-titled first release was released in 2021. Now, the group is back with their second psychedelic offering, Hallucinate Your Faith. In it, the group draws from the best elements of their debut (a brilliant, cross-instrumental harmonic sound, catchy leads, hooky vocals, tight musicianship) and beefs it up with a killer mix. Nova Koloso will call out to fans of psych rockers like King Gizzard as well as alt rockers like Smashing Pumpkins.
For Hallucinate Your Faith, the brothers enlisted the aid of former band mate, Ken Moore, on bass. The album was mixed and mastered by Steve Wright at Wright Way Studios. Clocking in at 38 minutes, its eight songs are on the shorter side, though the band includes lots of great leads and progressive interludes, as well as a nearly eight minute closing track.
1. Hallucinate Your Faith 3:54
2. Whatever You Want To 5:42
3. New Recruit 4:04
4. Dead Tongue 4:25
5. Night Surf 4:20
6. Washout 3:57
7. Salamander 4:03
8. The Mastermind 7:40
On vocals, guitars, and keys, Mark's propensity for orchestrating harmonized layers really shines throughout the album. Catchy keyboard tones are layered in, like on the grungy Hallucinate Your Faith and the hooky Whatever You Want To. There are flowing, psychedelic guitar patterns and lots of cool effects, notably on tracks like Night Surf and Salamander. Listen for cool, Middle-Eastern sounding guitar leads on Whatever You Want To and New Recruit. The vocals are melodic and catchy, with an edgy 90's grunge sound.
Tom holds thinks down solidly on drums, with metronomic exactness and a tendency for driving beats. Listen for some cool, odd-time drumming on Dead Tongue, as well as tricky, creative patterns on The Mastermind. Moore's bass is a great addition to the album, with a thick, beefy tone. His bass sound really stands out on the opening and closing tracks. Additional musicians include Fiona Crowley, who provides some nice backing vocals on Whatever You Want To and Washout, and Jenny Rae Mettee, who takes over bass on Night Surf.
You can find Hallucinate Your Faith on Bandcamp. Digital download is $9 with CD's available for $15, but copies are going fast. The band is active on social media.
TOUR DATES
NOV 20 Hank Dietles – Rockville, MD