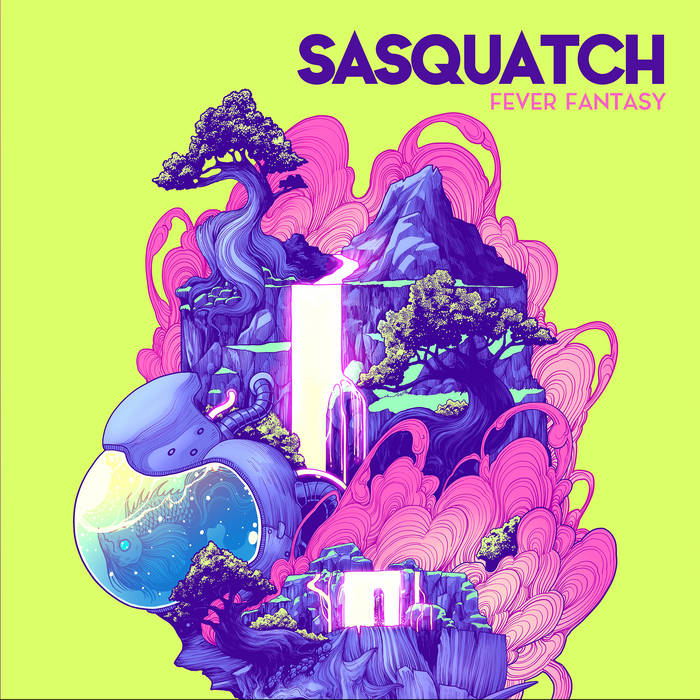 Sasquatch is back with their sixth full length headbanger. The LA power trio released Fever Fantasy in June, and it is a heavy ride for all nine tracks. From epic opener, It Lies Beyond the Bay, Sasquatch are where they belong: in the driver's seat with throttles wide open.
Craig Riggs, who joined the band for their previous album, Maneuvers, continues to provide a huge drum sound to back Keith Gibbs's walls of fuzzy guitar riffs and Jason "Cas" Casanova's growly bass tone. Gibbs also delivers plenty of catchy, attitude infused vocals, like on fifth track, Live Snakes.
1. It Lies Beyond The Bay 4:55
2. Lilac 4:14
3. Witch 4:43
4. Ivy 8:12
5. Live Snakes 4:03
6. Voyager 2:52
7. Part of Not Knowing 5:05
8. Save The Day, Ruin The Night 3:19
9. Cyclops 4:35
Sasquatch's focus on emphasizing killer hooks is evident on high energy tracks like Lilac, and Save the Day, Ruin the Night. Listen for tight grooves and heavy buildups on Ivy. Some killer heavy blues riffs are released on Witch, Voyager, and Part of Not Knowing. On a few of the tracks, notably Witch and Ivy, tasty organ tones fill out the mix nicely.
On the back end, the album was recorded and mixed by Andrew Schneider who has been involved with the band's production since II was released in 2006. Schneider has helped hone the band's sound to it's heaviest yet, with a raw, massive sound that easily translates to the stage. The cover artwork was created by Indonesia-based artist, Ian Permana, whose art, like a fever fantasy, beautifully blends fantasy and realism into something in between.
If you're into bands like Astroqueen, Nebula, Crobot, and Clutch, you're going to dig Sasquatch. They're hitting the road next month for an extensive tour which will cover North America, Canada, Europe, Australia, and New Zealand. The tour includes many of big rock festivals like Ripple Fest and Psycho Las Vegas. Find links to concerts and tickets on their website. Check them out on Bandcamp where you can order Fever Fantasy on vinyl or CD, browse tons of merch, and order back releases.
JUL 8 Mammothfest 2022 – Nea Karvali, Greece
JUL 15 Stoned From The Underground 2022 – Nöda, Germany
JUL 23 Ripplefest Texas – Austin, TX
JUL 25 Black Magic Social Club – Houston, TX
JUL 26 The Freetown Boom Boom Room – Lafayette, LA
JUL 27 Santos Bar – New Orleans, LA

JUL 28 Loosey's – Gainesville, FL

JUL 29 Will's Pub – Orlando, FL

JUL 30 The Wormhole Neighborhood Pub & Music Venue – Savannah, GA
JUL 31 Boggs Social & Supply – Atlanta, GA

AUG 2 TROLLEY PUB – Summerville, SC

AUG 3 Cafe 611 – Frederick, MD
AUG 4 Prost Bier and music hall – Griswold, CT

AUG 5 Saint Vitus Bar – New York, NY

AUG 6 The Middle East Restaurant and Nightclub – Cambridge, MA
AUG 7 The Piranha Bar – Montréal, QC
AUG 9 Brass Monkey – Nepean, ON

AUG 10 Hard Luck Bar – Toronto, ON
AUG 11 Westside Bowl – Youngstown, OH

AUG 12 Ace of Cups – Columbus, OH
AUG 13 Reggies Rock Club – Chicago, IL
AUG 14 Lyric Room – Green Bay, WI
AUG 15 7th Street Entry – Minneapolis, MN
AUG 16 Cosmic Eye Brewing – Lincoln, NE
AUG 17 Vultures – Colorado Springs, CO
AUG 18 Aces High Saloon – Salt Lake City, UT
AUG 19 Psycho Las Vegas Festival 2022 – Las Vegas, NV
AUG 20 Transplants Brewing Company – Palmdale, CA
AUG 21 Brick By Brick – San Diego, CA
SEP 1 VINNIES DIVE BAR – Southport, Australia

SEP 2 King Lear's Throne – Fortitude Valley, Australia

SEP 3 The Vanguard – Newtown Nsw, Australia

SEP 4 The Baroque Room – Katoomba, Australia

SEP 7 La La La's – Wollongong, Australia

SEP 8 The Basement Canberra – Belconnen, Australia

SEP 9 Singing Bird Studio – Frankston, Australia

SEP 10 Bendigo Hotel – Collingwood, Australia

SEP 11 ENIGMA BAR – Adelaide, Australia

SEP 15 Whammy Bar – Auckland, New Zealand

SEP 16 Valhalla – Wellington, New Zealand

SEP 17 12 Bar – Christchurch, New Zealand