Acid King has returned with their fifth studio album, Beyond Vision. It's been five years since their last album, Middle of Nowhere Center of Everywhere, and it's safe to say that the stoner rock community was drooling when the band teased the new singles, Mind's Eye and Destination Psych, a few months back. Beyond Vision dropped in March, and it is a crusher. If you're not familiar with Acid King, they fall in the smoky ranks of stoner doom bands like Sleep and Om, but with female vocals. It's psychedelic stoner rock with a meditative quality. Basically, we're talking about heavy music that you can either headbang with or gradually drift away to on the sofa.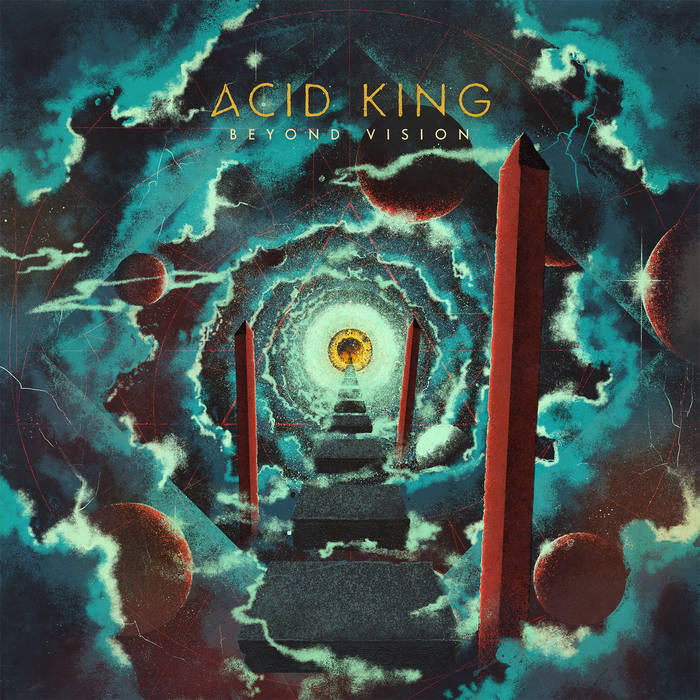 .
1. One Light Second Away 6:11
2. Mind's Eye 7:11
3. 90 Seconds 4:49
4. Electro Magnetic 8:17
5. Destination Psych 1:36
6. Beyond Vision 6:06
7. Color Trails 7:57
One Light Second Way opens the album with a synthy intro, which was giving me vibes from The Thing, eventually evolving into a huge Sabbath-esque riff accentuated by a killer bassline. Mind's Eye really showcases how good the drums sound in the mix, with some absolutely huge sounding cymbals and a full tom sound. Lori S. is in rare form with some trippy lyrics and one of the best guitar leads on the album. 90 Seconds is a spacy continuation of Mind's Eye, with the riff slightly slower and heavier, hitting us one more time with Lori's gritty vocals and more awesome drum work.
At this point, the album has established itself as a slow burner, inducing psychedelic trance through repetition. Electro Magnetic solidifies that concept with a super spacy intro that meanders through cool bass and guitar expressions over the metronome of some fx'd drums. In Sleep fashion, the track launches into some massive, complex riffs, underscored by a full, rich bass tone, before transitioning back to the opening spacy section for the outro.
Destination Psych and Beyond Vision are basically one track. It's good to hear Lori's ethereal vocals again on the title track, which also features slow riffs and a nice guitar lead. Color Trails finishes out the album in a strong way: after a spacy intro, we're treated to some slow, stoner rock grooves and an energetic finish with some awesome drum work. A great end to a solid album.
Beyond Vision is available on Bandcamp for streaming and in multiple formats. It features mind-bending artwork by the acclaimed Maarten Donders, who has also created work for Dead Meadow. The album was released through doom label, Blues Funeral Recordings. Check out Acid King's merch page for t-shirts and copies of back albums. Go to their official website for the latest updates. The band is active on social media.
For a limited time, FOLLOW The Sonic Sofa on Facebook and message us your mailing address to receive an absolutely FREE, high-quality Relaxing Wizard sticker, designed by legendary stoner rock artist, Steven Yoyada!